During summer and into early autumn wasps can become a real problem but they've probably been building the nest for quite some time and you probably will not have noticed until they begin to swarm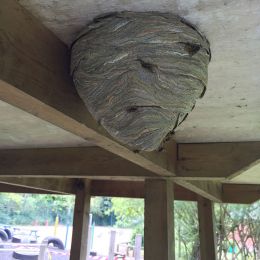 Coming home to a swarm of wasps is a frightening prospect and we can deal with these pests quickly and efficiently with no fuss.
Wasps can build nests in the eaves of your house or between gaps in brickwork so can be difficult to spot before it's too late.
At any stage, you should not attempt to remove a wasps nest yourself, even if it looks dormant. Wasps can quickly swarm and are more likely to sting than bees.
If you suspect you have a wasps nest call +44 (0)1773 761254 or contact us today...
---